#1 Team in Fort Myers
Top Agent Team Florida has received the June 2023 Top Producer Award as the #1 Team in the Island Palm Region of John R. Wood Properties for June 2023. This award is based off volume sales for June 1 – 30, 2023 and is for all teams, regardless of size or location, within the Island Palm Region.
What is the Island Palm Region?
All offices in Lee County are included in the Island Palm Region. This includes Fort Myers, Sanibel, Captiva, Pine Island, Matlacha, Fort Myers Beach and Cape Coral.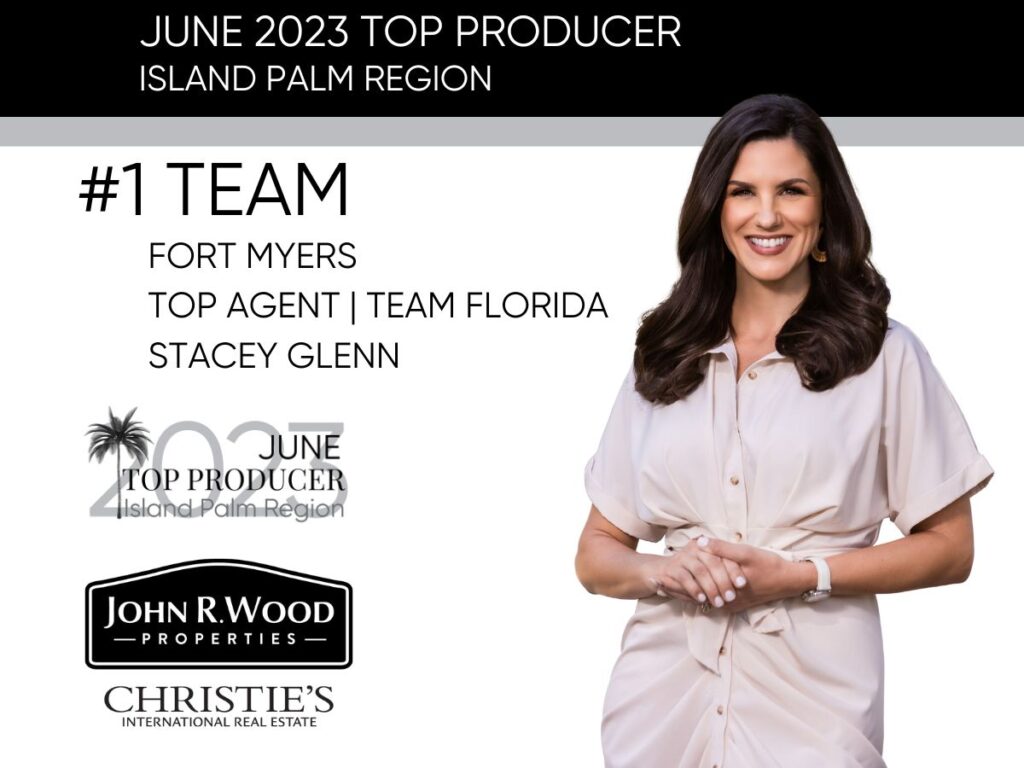 About the # 1 Team Fort Myers Real Estate
Top Agent Team Florida is a group of Realtors led by Fort Myers real estate agent Stacey Glenn at John R. Wood Properties, Christie's International Real Estate. In 2023 they ranked in the Top 1.5% of real estate professionals in the United States by "Real Trends + Tom Ferry's America's Best" list, as published in the Wall Street Journal.
The agents specialize in Southwest Florida residential real estate including Fort Myers, Cape Coral, Alva, Bonita Springs, Estero, Naples, and LaBelle. They work with buyers and sellers and the business expertise and acumen to help you achieve your real estate goals.
---
We are your #1 Real Estate Agent in Fort Myers
Agents include: Stacey Glenn, Tammy Turner, Kelly Donovan, Yvonne Gallegos, Lori Grechika, Reneé Storms, Dalene Westhues, Traci Ames, Autumn Warner and Dina Serra.
We each have our own specialty and work together to support each other and provide more value than any one individual agent could alone.
Within our group of agents we have a Certified Staging and Redesign Specialist, a Transaction Coordinator and even a Showing Agent on-call for nights/weekends!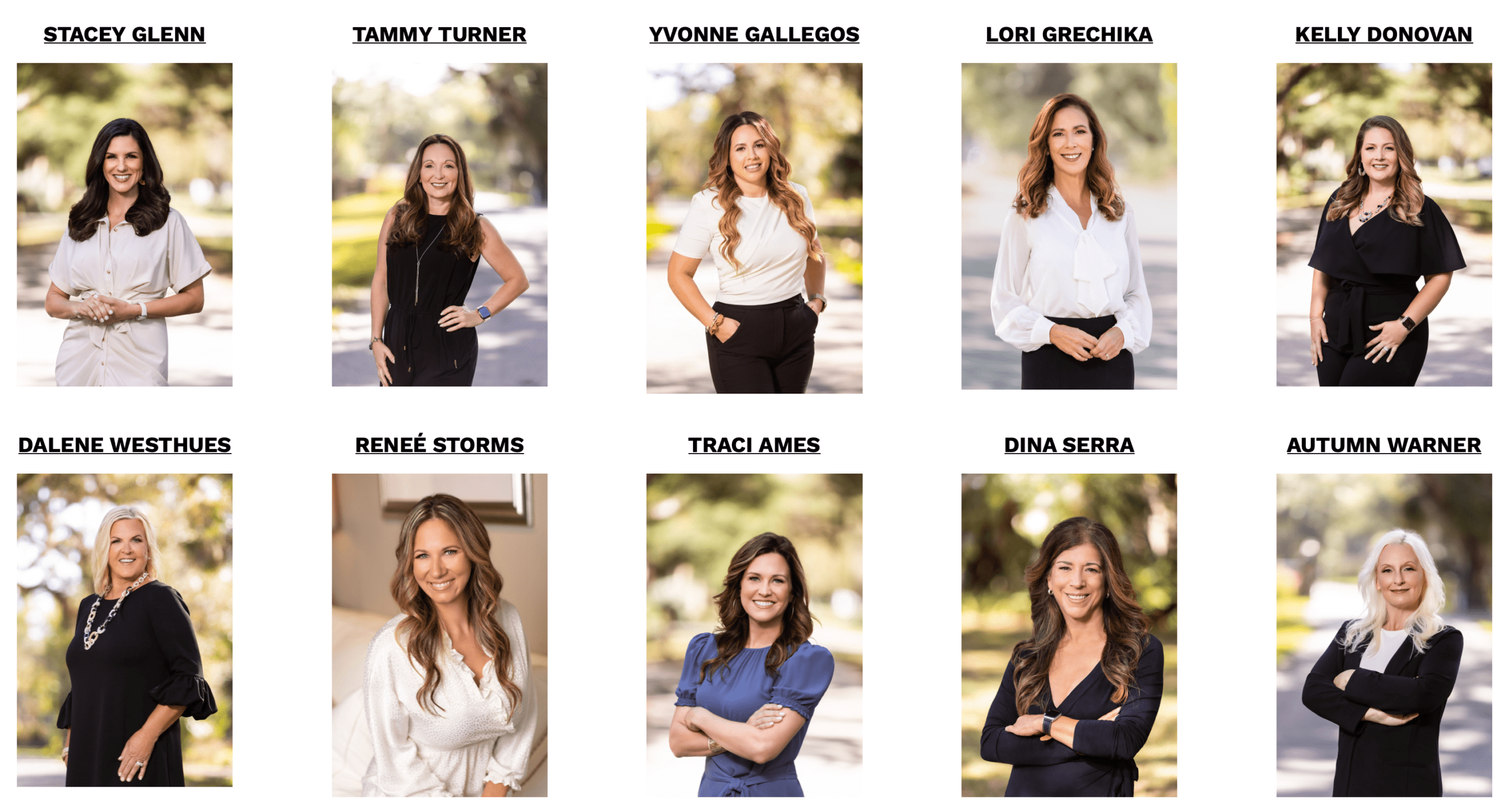 Why the Fort Myers Group of Realtors was Formed
The best businesses and teams come from a genuine need, which is exactly why our team was formed.
"Formed to ensure that clients receive the highest level of service while each agent's personal life remains in balance."
It started in 2015 when Stacey Glenn's mother was hospitalized six times and Stacey reached out to fellow agents to fill in while she needed to be by her mother's side. Mentoring and developing her team members who were hungry for learning and excellence became a second passion.
2021 Sales Volume: $33.1 Million Sold
2022 Sales Volume: $53 Million Sold
Real Estate Teams are the key to a Successful Real Estate Experience
Being a member of a real estate team allows me to deliver a higher standard of service and do it more consistently than a single real estate agent.
A team structure allows you to benefit from a group of specialists who focus on different aspects of your real estate sale or purchase because we work together. Having a team in your corner doesn't cost you any money and it certainly won't cost you any opportunities either.
Having a full sales team of Realtors means business is taken care of on time.
For example, when we list your home there are many things which need to fall into place simultaneously… the moment we list your home we need a sign in the ground, marketing packets in the foyer and a Supra box on the door. In the meantime I may be receiving calls on your property and showing requests. A team of Realtors who can can accomplish multiple tasks at once is one of the biggest advantages to you as a Seller when working with Top Agent Team Florida. Our working office location is in Fort Myers but we are live and work throughout all of Southwest Florida.
Serving you remains a top priority because tasks are delegated so your primary agent can focus on you.
Your agent ranks your needs ahead of anything else that needs done, unlike solo agents who can get bogged down with every duty and responsibility.
Top Real Estate Agents in Fort Myers, FL
When searching for a home to buy, or considering selling your home in Southwest Florida, you can rest assured that you will be matched with the absolute best agent to serve you.
We analyze thousands of homes and identify the best performing REALTOR® for each individual need.
Whether it's a waterfront home, rural equestrian estate, suburb, gated community, condo, townhouse, manufactured home, acreage, on an island, a fixer-upper or move-in-ready, we have the experience, expertise and excitement to serve you!

If you want to learn more about the team, the buying process, selling process, real estate investing, or other services we offer, simply click the link to contact us.
Industry Affiliations
We are members of the National Association of Realtors, Florida Association of Realtors, Fort Myers Royal Palm Coast Realtor Association, Island Palm Region at John R. Wood Properties, Christie's International Real Estate, LeadingRE or Leading Real Estate Companies of the World, and Luxury Portfolio.
Fort Myers Office: 15065 McGregor Blvd, Suite 105, Fort Myers, FL 33908