Discover the latest trends and insights in the Southwest Florida real estate market with our comprehensive September market report. Gain valuable information on property prices, demand, and investment opportunities, guiding you toward informed decisions in the thriving market.
Closed Sales
Closed sales for the 12-month period ending September 30, 2023, were down 21% from the preceding 12 months, from 30,650 to 24,162. The 1,681 sales posted for the month of September were up 8.59% when compared to September of 2022.
Listing Inventory / New Listings
As of September 30, 2023, there were 8,206 properties available, marking a 53% increase compared to the same date last year and an 8% increase from the prior month. New listings for the 12-month period ending September 30 decreased by 5% compared to the preceding 12 months, going from 35,756 to 33,906. For the month of September, new listings were up 43% from the same period in 2022. 4.08 months of supply was posted as of September, up 94% from September 2022 when months of supply was an unusually low 2.10 months.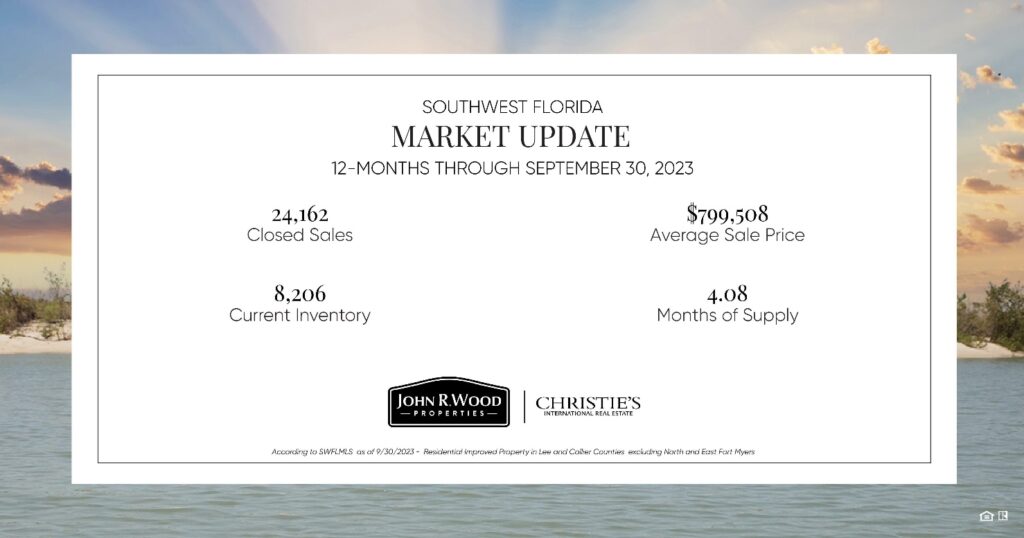 Average Selling Price
Moreover, the average selling price for the 12-month period through September was $799,508, a 6% increase from the preceding 12-month period when the average selling price was $795,620.
Perspective
Year-to-date through September, closed sales were down 15% from the same period in 2022. Keep in mind, the first half of 2022 saw a surge in buyers driven by the pandemic. So, view the 15% year-over-year decline as a return to normal, rather than a departure from it. Comparing closed sales to the pre-pandemic pace of 2017-2019, all three of those years having posted steady sales and balanced market conditions, 2023 year-to-date sales through September were down by 5%.
When gauging market conditions, it is the relationship between supply and demand that most indicates the market's overall health. Even with sales somewhat behind historical trends, Southwest Florida posted just 4.08 months of supply as of September 30th, a number still indicative of sellers' market conditions. Although the current inventory level is now up considerably from its low during the buyer surge, it remains well below pre-pandemic levels and the rate at which it's been increasing has remained slow.
The present real estate cycle differs from 2007-2010, where sales slowed, new listings surged, and inventory increased, causing a shift from a sellers' market to a buyers' market, reducing prices. This time, even though the peak in closed sales activity was almost two years ago, the average closed sales price in Southwest Florida continues to rise year-over-year, albeit not as dramatically as in 2021 and 2022.

Through September, John R. Wood Christie's International Real Estate continued to expand its lead as the top firm for closed sale volume in Southwest Florida! John R. Wood also holds the top position in closed sales volume in the Bonita-Estero, Naples, Fort Myers, and Pine Island-Matlacha markets!
*Broker rankings according to SWFLA MLS. All rankings are for residential improved property excluding manufactured housing. "Southwest Florida" ranking includes Lee and Collier Counties.
Want to keep yourself updated on the latest trends in Real Estate for 2023? Stay tuned to keep up with up-to-date information in the real estate market. Learn more.