#2 Team in Fort Myers
Top Agent Team Florida has received the July 2023 Top Producer Award as the #2 Team in the Island Palm Region of John R. Wood Properties for July 2023. This award is based on volume sales for July 1 – 31, 2023, and is for all teams, regardless of size or location, within the Island Palm Region.
Top-performing teams in the Island Palm Region are recognized monthly to appreciate their valiant efforts in shaping the real estate landscape of the region. This recognition is just one of the awards the team has received this year including the #1 performing Team for June 2023 and #3 Team for the First Half of the year.
Why choose us?
Top Agent Team Florida is a group of Realtors led by Fort Myers real estate agent Stacey Glenn at John R. Wood Properties, Christie's International Real Estate. In 2023 they ranked in the Top 1.5% of real estate professionals in the United States by "Real Trends + Tom Ferry's America's Best" list, as published in the Wall Street Journal.
/im
The agents specialize in Southwest Florida residential real estate including Fort Myers, Cape Coral, Alva, Bonita Springs, Estero, Naples, and LaBelle. They work with buyers and sellers and the business expertise and acumen to help you achieve your real estate goals.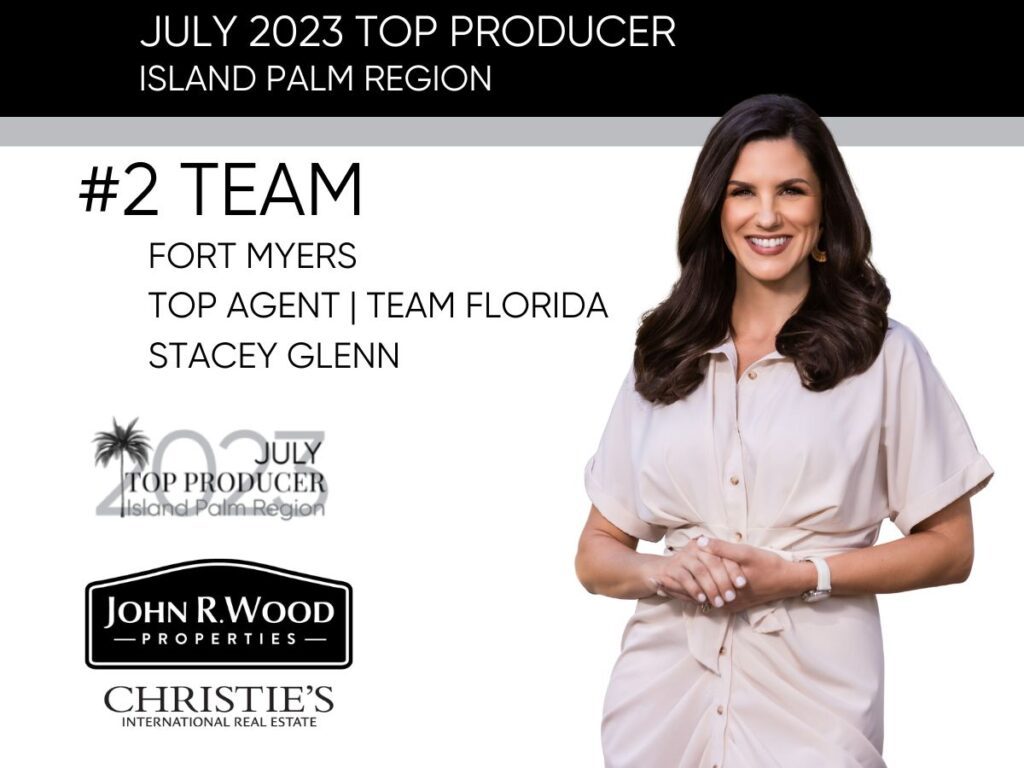 Top Real Estate Agents in Fort Myers, FL
We each have our own specialty and work together to support each other and provide more value than any one individual agent could alone.
Within our group of agents, we have a Certified Staging and Redesign Specialist, a Transaction Coordinator, and even a Showing Agent on-call for nights/weekends!
When searching for a home to buy, or considering selling your home in Southwest Florida, you can rest assured that you will be matched with the absolute best agent to serve you. We analyze thousands of homes and identify the best performing REALTOR® for each individual need.

If you want to learn more about the team, the buying process, the selling process, real estate investing, or other services we offer, simply click the link to contact us.