If your home was damaged during Hurricane, my heart goes out to you. Going through a major hurricane is stressful enough, let alone dealing with the aftermath. I am in this boat with you, having experienced flooding in parts of my own home.
This article will show you exactly how I go about answering the question of whether a home should be restored or sold as-is. It will also give you the 4 options you have for selling your Hurricane Ian-damaged home.
If you'd rather have a real estate professional evaluate your home for you, reach out to Stacey Glenn directly at 239-823-1343. You can also fill out a form here to begin the process.

How do I determine how much my home is worth after Hurricane Ian?
In the aftermath, many homeowners are re-evaluating where they want to live. Without all the facts (insurance proceeds, building code, home value, future insurability of home, future home values), the thought process can be overwhelming.
Hurricane Ian Calculator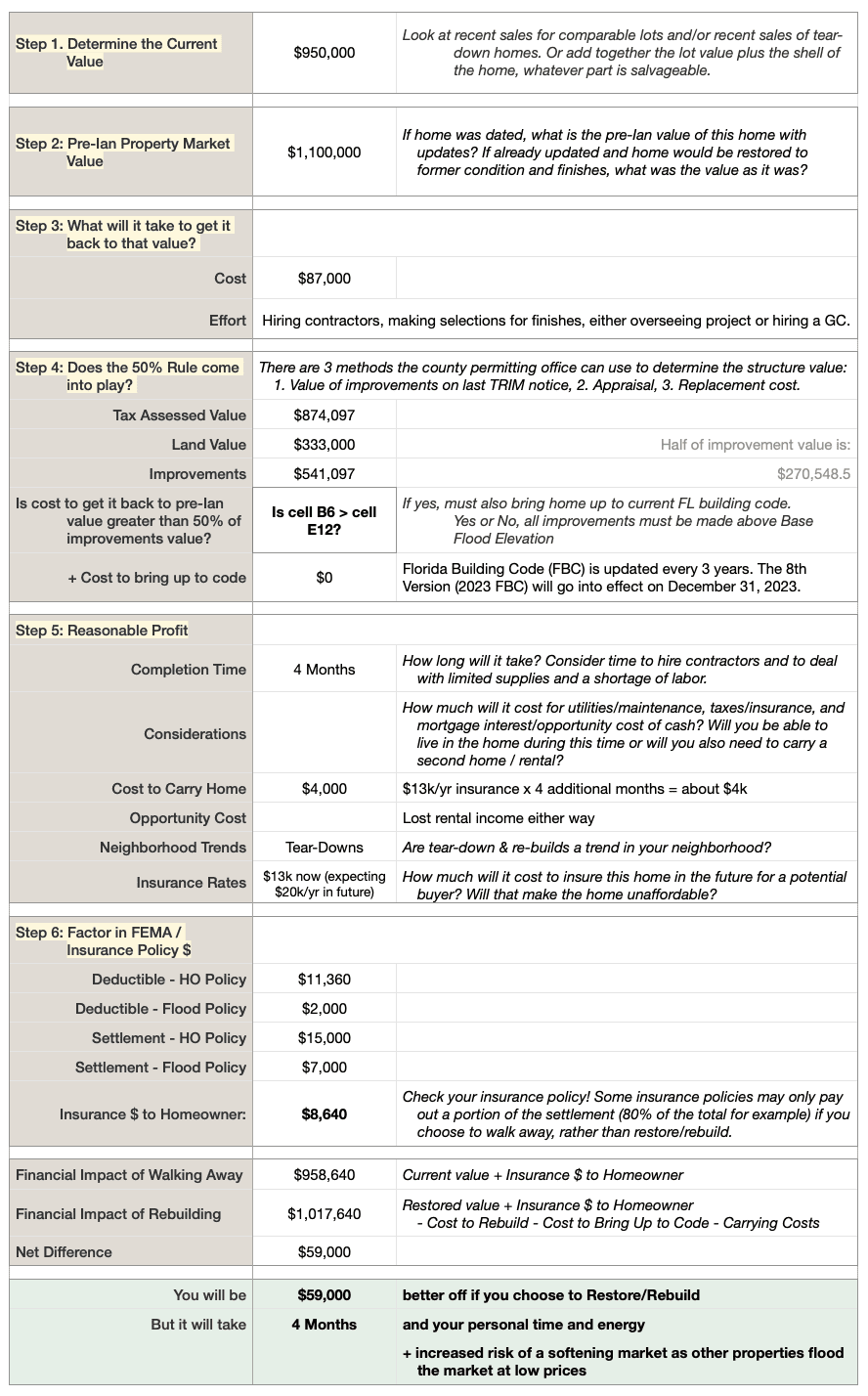 I created a free tool that helps homeowners process all the variables at play in their decision on how to handle their hurricane-damaged homes. Trying to navigate the options (wholesale / land value / distressed / rehabbed) can be overwhelming.
It's totally free and can be accessed / downloaded in Numbers / Excel / PDF format here: bit.ly/iancalc.
This calculator helps by putting it down in black and white and takes into consideration:
– land value / distressed value
– pre-storm market value
– cost to get it back to pre-storm market value
– whether the 50% rule will come into play (and how it's calculated)
– cost to bring home up to code, if required
– completion time (and opportunity cost of the money during that time)
– cost to carry the home (and whether two residences must be carried)
– neighborhood trends (ex: tear downs typical?)
– insurance rates (and likelihood of unaffordable future rates or even it's availability)
– flood and homeowner insurance settlements, less deductibles
The end result is a final statement of "you will be $______ better off if you choose to rebuild/restore, but it will take you _________ months and your personal time and energy."
Having a clear statement like that helps to put it in perspective and make a decision on whether it's worth the time/energy/stress in order to squeeze that additional money out of the market.
This came about after having several conversations with homeowners / friends / other agents and helping them to work through the equations for their own personal properties. In most of the equations we find that homeowners will be 10% better off to go ahead and do the repairs but they're trading about 6 months of their time/energy to do so. Of course it's different for every person and it all depends on how much they can get the work done for, how good of insurance they have, and whether they're here locally or not. But this is a very good starting point and has been helpful for a lot of folks so I just wanted to share it to a larger audience.
This is also a good starting point for many additional conversations to ensure that our community is empowered to make informed decisions.
Important Consideration: Should I Sell Wholesale or List with a Realtor?
Another consideration is the method by which to sell the home. If your home has been damaged severely, you've probably gotten a postcard or two (or two dozen!) in the mail offering to buy your home cash.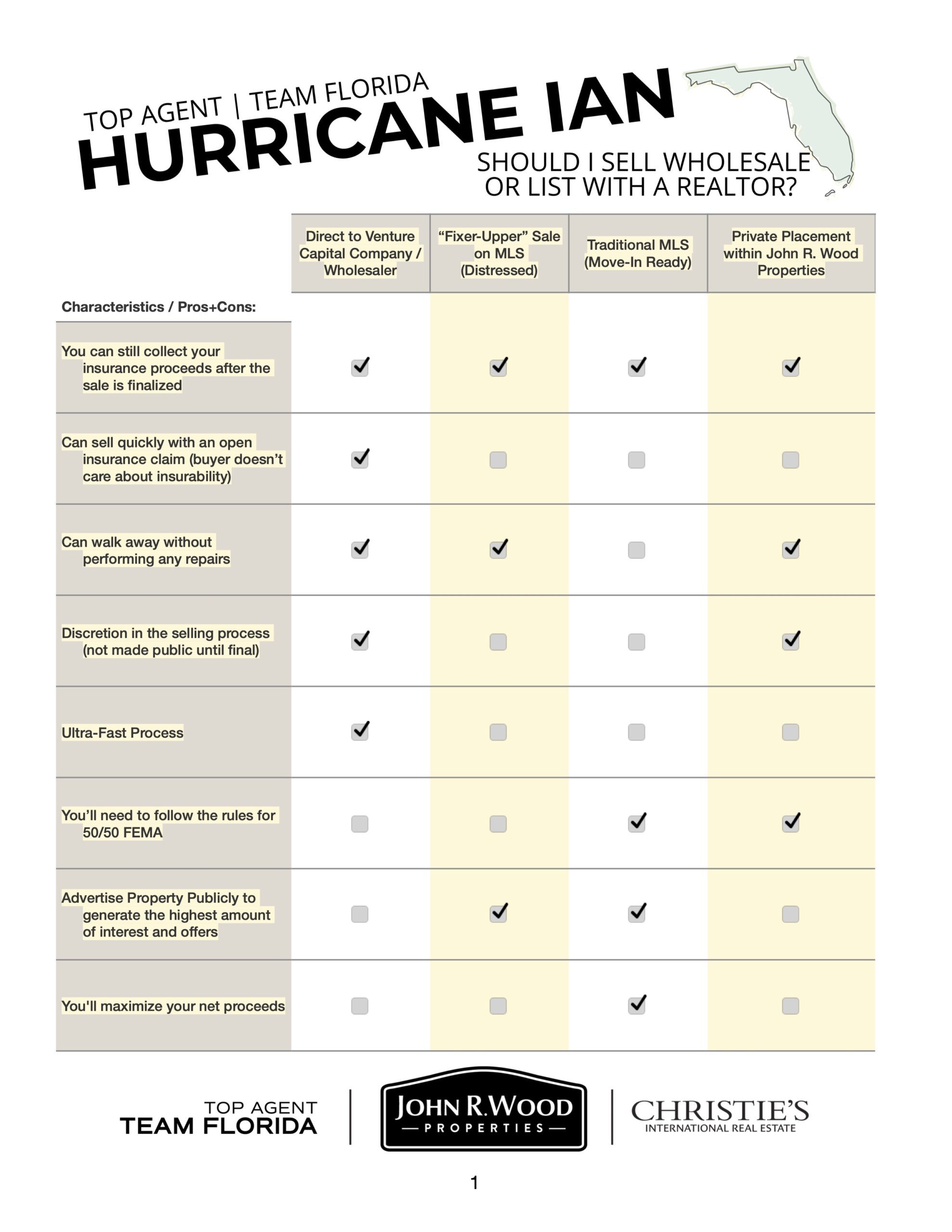 Option 1: Wholesale
There are some benefits to selling your home outright to a cash buyer and bypassing the MLS system, most notably the fact that these buyers are willing to close quickly even with an open insurance claim. They take on the risk of not insuring the home until your claim gets settled in exchange for an ultra-low sales price. This price is often lower than the land value of the property. Another benefit is how quickly the process can take place. They will usually give you a non-refundable deposit immediately and then close within days.
Option 2: MLS in Current Condition
However, if you want to maximize your profits from the sale of your home then you should consider a "retail" option by placing it on the MLS (multiple listing service) with a real estate professional. This can be done in its current condition or after the home is restored. It is important to remember that your insurance claim must be closed in order for the buyer to insure the property, so most buyers will want to wait until the property is insurable before they close on the sale. In exchange, you'll receive a higher sales price. Most of your offers will be cash but it's possible you could also receive offers with financing that allows for rehabilitation of the home, such as an FHA203k home loan.
Option 3: MLS after Home is Restored
In this option you make the necessary repairs to restore your home to its former glory (sometimes even better!), whether you begin that process immediately with your own funds or you wait for your insurance proceeds to begin. If at all possible, begin immediately with your own funds. The risk you take with waiting is a shifting market.
Consider this: if a large number of homeowners decide to also list their homes, and especially if some of those grow restless an decide to offer huge price cuts, then your value will go down in the mind of your buyer and they may cancel or default on your contract. As a result you could get "stuck" in your home for a longer period of time than you'd like to be there. Some homeowners are willing to take that risk because of the payoff. Most of the time you'll be better off financially if you restore your home but it will come at a price of your time, energy, stress and increased risk of a changing market.
Whether you choose option 2 or 3, it's important to have confidence in your agent's strategy and ability to guide you through the process. Every situation is unique.
Option 4: Private Placement with John R. Wood Properties
The top brokerage in the region, John R. Wood Properties, offers a benefit to homeowners they won't find anywhere else and that is with their Private Placements. This option is ideal for the homeowner who does not want their home sale to be marketed publicly. There would be no sign in the yard, no open houses, no listing online to the public. Instead, their real estate professional would work diligently on a 1-to-1 basis with buyers and other agents to procure a sale.
All Private Placement listings are circulated internally to our 21 offices with over 700 agents. These agents represent the most qualified and active buyers in the market and have the connections to procure a sale for your home. So if privacy is very important to you, especially during this extremely stressful time, Private Placement may be a good option for you.
The drawback here is that your home will not reach as many people as it would if advertised publicly online and with a sign in the yard so the process may take longer. However, you can always transition from a Private Placement to a Traditional MLS Sale when you feel comfortable.
Where do I go from here?
Real estate agents are a great resource, especially in times like these. We can provide you with objective advice, lend a helping hand, connect you with vendors, consult with you on strategies, and help you to achieve your real estate goals. Even if you choose to sell wholesale, we can connect you with reputable companies. If you'd like to know how much your property is worth after Hurricane Ian, click here to fill out a quick form or simply pick up the phone and call Stacey Glenn at 239-823-1343.